The Problem
For most Paducah residents, businesses and churches, the problem is simple: their electric power bills are far too high.
However, the path to Paducah's skyrocketed power costs, among the highest in the state, is anything but simple.
This is a complex problem that constitutes a huge piece of the economic puzzle in making Paducah livable and affordable, two issues at the heart of my campaign for city commission.
At worst, high power costs threaten the stability of the most vulnerable among us—the poor as well as the elderly living on fixed incomes–are especially adversely affected by rising and in some cases and at some points, doubling, electric bills. Small and large business owners alike have been forced to weather an increase in the cost of operating in the city. Soaring power costs adversely affect local businesses and those dependent on the jobs they create as well put additional strain on the social service agencies, government programs and charities whose mission it is to assist those in crisis. In addition, high utility costs hinder our ability to attract new business and nurture the kind of locally owned small business start-ups that offer the best known fuel for Paducah's economic engine.
What Happened
It breaks down like this:
Paducah Power began as a small, unregulated power distribution company that bought power from TVA. Very simple…one product, one vendor
As TVA rates began to rise, members of the Paducah Power board, like many other utility companies, began exploring the idea of more cost effective power sources.
In search of a better deal for consumers, around 2007, the Paducah Power Board voted to break with TVA and invest in Prairie State under development by Peabody Energy of St. Louis. Prairie State would produce and sell power by burning the Peabody coal mined in the Muhlenberg County area.
While this may have seemed a more reasonable decision at the time, a more modest investment would have turned out quite differently. Instead, eager to capitalize on what the PPS board saw as an opportunity not only to buy power more economically, but also as an opportunity to make money by selling excess power on the open market, the "then PPS board" committed to buying much more power than Paducah needed.
It was this last decision, then — a gamble –  essentially a "double down" — that would result in the huge losses, around $300,000 per month in the earliest months of the crisis, and a decision that would transform Paducah into a city with the highest electric power costs in the state; 60 percent higher, on average, at its height.
Had this gamble paid off, and PPS rates dropped, with the added bonus of the utility making money on the re-sale of excess power, this decision might have been hailed as visionary (or lucky). Unfortunately, a number of factors, including the recession, a major reduction in natural gas prices, an over-estimation of future demand, as well as the plant operating very inefficiently upon start-up, spelled disaster for the out-sized Prairie State investment.
Ultimately, as we know all too well, PPS consumers were left holding the bag.  What resulted was "The Rate Payer Battle of 2014" complete with some battle heroes. (Workman, Roberts, Goode, Holland V.  and Bryant are names that come to mind)  The struggle for a management change became public and frankly, without the public outcry, management would have been difficult to change.  What became apparent was a lack of a control system for when management was obviously "lost in the woods" but not quite ready to admit it had gotten lost.    The Paducah City Commission was without authority to require much of anything and found itself shrugging its shoulders to explain "it was not their circus and certainly not their monkey."  Even the simple task of developing public transparency was difficult and the best tool available was simple charm.  (i.e. PPS please come talk to us about the problems in a more public forum so the public has a better understanding of the problem and more knowledge about their future power bills)
The Present
Since the height of the utility rate crisis in, 2014, under the leadership of Gary Zheng and current PPS board chair, Hardy Roberts, PPS have worked hard to stabilize and reduce rates.  PPS consumers have indeed seen a decrease in costs. Here is a look at the numbers over time for a 1,000 kilowatts: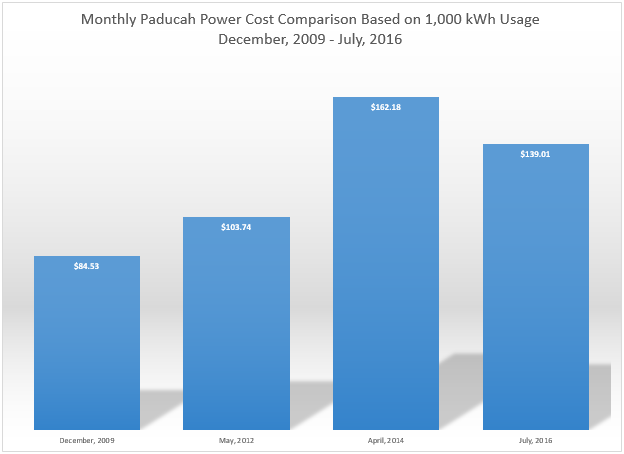 Improved, but still not recovered.  By the way, as you are examining the chart above, remember lots of Paducah houses require well over 2000 kilowatts per month.
PPS is still losing money and is still in debt to the tune of 560 million dollars or about 25,000.00 for every person in Paducah.
It should be said that Zheng, Roberts and the current PPS Board face an unenviable challenge; they are wrestling a mountain sized problem.
As Paducah moves forward, it seems to me the fundamental question is this:
Should a local power company board, no matter how well intentioned, have the unchecked ability to gamble with the future financial stability of a community?
Here is what Paducah Power said about setting its own organization structure in a 2009 bond prospectus:
 Upon termination of the TVA wholesale power contract in 2009, TVA will no longer regulate the retail rates of PPS

[Paducah Power].

PPS will thereafter have sole authority to set its retail rates and charges and its rates will not be subject to jurisdiction of any regulatory body, including the City

.

Under the current model, Paducah's Mayor is responsible for the appointment of PPS Board members which have 4 year terms. Either a city commissioner or the city manager sits on the board.

This is a system that was organized by the Little TVA Act which was enacted in the early 1940s. As I mentioned earlier, the mission in those days was simple: we were a small, sleepy locally owned utility company that bought power from TVA. Period. I think we can all agree the 21st century picture has become a bit more complex than pre-World War II America.

Nevertheless, we continue to apply that antiquated model to a very modern set of problems.

If organization structure is or was part of the problem, (and to be very clear – I do believe it certainly was) then recent amendments to KRS 96.170 may provide the ability to add some transparency and improve the inadequate system of  "checks and balances."

Other Kentucky cities have more oversight of their power boards (Henderson and Owensboro are examples).  Because those cities organized under a different statute (The Home Rule Statute) and because at the time they had a power plant under construction, a different organization system was statutorily available.  By the way, those cities have lower power rates but also have a set of different power problems – such as really old power plants.

So What Then Shall We Do?

Rate Protection Ordinance (I just love the ring of that)

I believe the Paducah City Commission should consider a "rate protection ordinance."  Certainly, if I were to be elected in November, this would be a top priority of mine.  I envision an ordinance that would provide the Paducah Power Board with authority to increase rates consistent with the Consumer Price Index.   Any rate increases beyond that cap would require approval of the City Commission.  A "rate protection ordinance" inserts more public transparency into the manner, amount, length and timing of any increased rates without unnecessarily compounding the work of the Paducah Power Board.  In short, our power bill would not be allowed to take the Christmas money again without a public, YouTube type discussion about "how much?" and "how long?" and a little bit of "why how come mister?" [Read more on the legal basis for this strategy here.]

  2. Future Appointments to the Power Board

In addition to the evaluation of adopting some type of "rate protection ordinance", I believe it is incumbent upon future city commissions to carefully analyze and discuss the staggered appointments to the Paducah Power Board.  We need to maintain a carefully selected mixture of veterans and rookies to ensure we keep a smart, forward thinking, problem solving responsible board.  These appointments should not just receive a "light hearted commissioner amen" but rather each commissioner should be come convinced we that the commission has carefully found the right person for the next 4 year appointment.

Conclusion

Unfortunately,  there is no going back and changing the PPS board decision to over-invest in Prairie State. However, I believe it is incumbent upon us to reflect on the organization deficit and improve it for future decisions and generations.  Further we need the City Commission to have more "skin in the game" when it comes to our future cost of power.

It's sort of a big deal.

[Additional notes: My thanks to

Paducah Power

for providing me with the comparison numbers you see depicted in the chart in this post. Current Paducah Power management has been open and responsive to this candidate's continuing questions. Certainly the Paducah Power employees deserve credit for soldiering through some tough moments.  As noted above, the legal citations on this strategy can be found in a companion post

here

. More from me on this subject can be found

here

.]